How to Add Hotmail to Apple Mail – A Step-by-Step Guide
Apple Mail is a popular email client in the world that comes pre-installed on Mac OS devices. Whose design is quite easy to use. Now if you use the Hotmail email application which has been converted to Outloo.com and want to access your emails through Apple Mail then you have come to the right place. In this blog post, we will walk you through the process to add Hotmail to Apple Mail step by step. So, let's start the blog to know the solution on how you can set up a Hotmail account in Apple Mail.
Table of Contents – Easy to Learn
Let us first take a look at the reasons behind transferring Hotmail to Apple Mail.
Add Hotmail to Apple Mail – Possible Reasons
Here, there can be many reasons behind thinking about matching and setting up Hotmail accent with another Mac OS, so, below we have introduced you to some of the reasons.
You can manage multiple email accounts from one place. This makes it easy to access your website as well as many other email addresses.
Apple Mail gives you the ability to download Hotmail emails offline. So that you can view and respond to email messages even when there is no internet connectivity.
Integration with the Apple Mac Mail environment, including iCloud Calendar and Contacts, can improve overall efficiency and organization.
Apple Mail is a popular email client for macOS that is well-customized and user-friendly.
From the section till now, we have come to know why users want to switch to the Outlook.com web application and Apple Mac Mail. So, now the time has come that we should step forward towards all those solutions with the help of which we will be able to export Outlook hotmail to Apple mail.
So in the solution, first of all, we have to save the mailbox data of Hotmail in an MBOX file. Because Apple Mail saves its data in MBOX file format. So, for this, we will use an automated method. Because mentally this is not possible. So let's start.
Import Hotmail Data in MBOX – Automated Method
To convert Hotmail mailbox items like emails, contacts, calendars, tasks, etc. to MBOX files, you can use this reliable and useful tool named Hotmail Backup Tool. This tool sometimes comes with advanced features with the help of, you can add Hotmail to Apple Mail within a few clicks.
Also, you can backup your data from Hotmail.com, Outlook.com, Live.com, and MSN.com accounts. Additionally, it also maintains the folder hierarchy of emails during backup. Let us know the steps of how this software works.
Exploring the Working Process of the Software
First of all, Download, Install, and Run the software on your Windows system.
Enter your Hotmail account's email address and password and then click the Login button to add it.
Then, from the list of File Formats, select the "MBOX" labeled text.
Users may now choose whether to backup E-mails, Contacts, or Calendars under the Select Category section.
Then, click the "Browse" button to save emails to the location of your choice.
Finally, press the "Start" key to add Hotmail to Apple Mail.
So after following the above method, all our data has been saved in mbox file format. Let's proceed further and import the resulting file into Apple Mail.
Import Hotmail MBOX File in Apple Mail – Manually
On your MAC, launch the Apple Mail application.
Select Import Mailboxes from the list after clicking the File button.
From the Import Wizard, select Files in MBOX format. Continue by clicking the button to add Hotmail to Apple Mail.
Choose the inbox.mbox file from wherever you saved it to import Hotmail emails into Apple Mail.
A notice will display informing you of the location of your imported MBOX file. Click the Done button.
Now, you can see your all Outlook.com mailbox data in Apple Mail. But, you also want to configure your Hotmail account to Mac Mail. Then, you can follow the below method method.
Method to Setup Hotmail Account to Apple Mail
On your Mac's Dock, click the Mail icon. (It's also in Launchpad and the Applications folder) to add Hotmail to Apple Mail.
Select Add Account from the Mail menu.
In the screen that appears, choose Other Mail Account, then Continue. Depending on your macOS version, the next screen may require you to pick Mail Account.
Fill up the blanks with your name, Hotmail email address, and password. Choose Sign In to add Hotmail to Apple Mail.
In the list of available services, leave Mail and Notes checked. Select Done.
From within the messages application on your Mac, you may read, respond to, and send new messages using your Hotmail email address.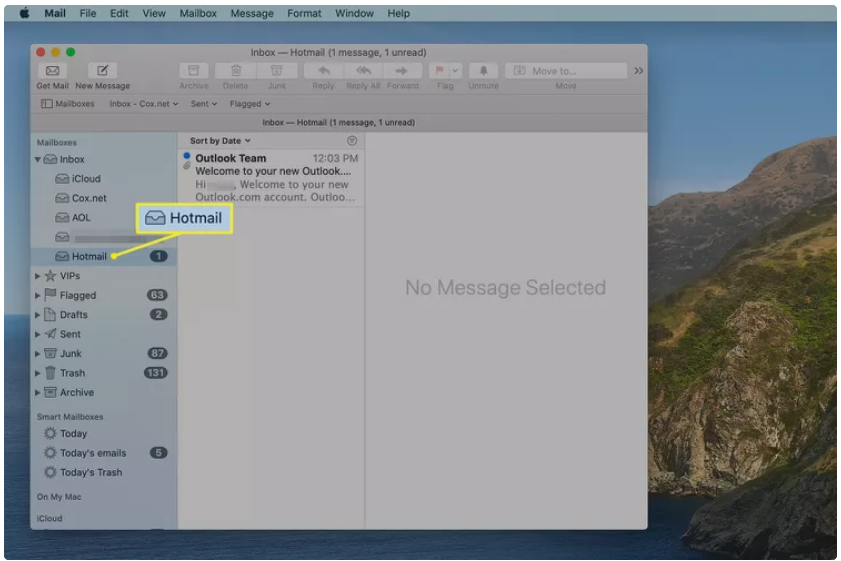 Finishing Line
We now know how to add Hotmail to Apple Mail in only two steps. We have developed a better alternative for users who are having issues linking or connecting their Hotmail account to the MAC Mail application. When there is a direct solution (described above), there is no need to add or sync Outlook.com to Apple Mail.
Frequently Asked Questions
Q 1: What is the Hotmail server address on a Mac?
Ans: smtp-mail.outlook.com is the mail server. 587 is the server port.
Q 2: How can I set Hotmail as my default email client on my Mac?
Ans: Launch the Mail app. Select General. From the "Default email reader" pop-up menu, select an email app. If you don't see your email app in the menu, pick it from the menu, then select it from the file dialog that appears.
Q 3: What is the Hotmail SMTP configuration?
Ans: Hotmail's SMTP server address is smtp.live.com. Your Hotmail account's SMTP user name. SMTP password for Hotmail: your Hotmail password. Hotmail's SMTP port is either 25 or 465.